Online Vision Test
Renew your contact lens prescription from home and speed up your order. It's completely free!
How It Works
TAKE VISION TEST
---
DOCTOR REVIEW
---
FREE
RECEIVE YOUR RX
You will need:
A computer AND a smartphone
10 feet of space
15 minutes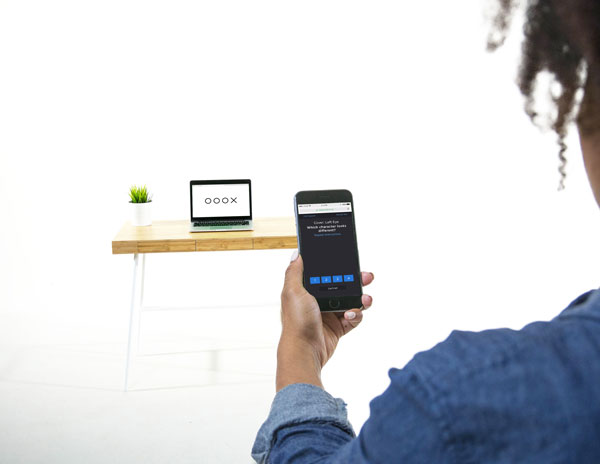 Our Online Vision Test is currently unavailable for:
Patients younger than 18 or over 55
Orders requiring more than one prescription
Orders without prescription products
Prescriptions for only one eye
Prescriptions for RGP, novelty, or discontinued contact lenses
Prescription CYL parameters higher than -5.00
Prescription SPH parameters outside of +6.00 to -12.00
A licensed eye doctor will review your test within 24 hours. If you're approved, we'll email a PDF of your new, valid prescription and process your order.
You have 30 days to complete the Online Vision Test. Taking our Online Vision Test does not guarantee a new prescription. Some individuals may not be eligible for reasons including, but not limited to age, medical history, location, and test responses.
Excluded states/territories:
Alaska, California, Delaware, District of Columbia (DC), Georgia, Idaho, Kansas, Louisiana, Maine, Michigan, New Jersey, New Mexico, Oklahoma, Puerto Rico, South Carolina, Vermont, West Virginia.
Visibly Digital Acuity Product is manufactured and distributed by Visibly, Inc. and operates under the Enforcement Policy for Remote Ophthalmic Assessment and Monitoring Devices during the CoronaVirus Disease (COVID-19) Public Health Emergency issued by the FDA in April 2020. This product has not been approved by the FDA. The data and recommendations made by the Visibly Digital Acuity Product are adjunctive (supporting) recommendations that will be used by an Eye Care Provider, along with your medical history and profile, prior corrective eyewear prescriptions, and subjective data provided about your vision. It is the responsibility of the patient to provide accurate information through the process as all of this information will be relied upon as accurate by the reviewing Eye Care Provider.